Torrevieja Classic and Specialist Car Club
Merchandise available to all members.
Please place an order at one of the monthly
meetings, or contact John Wallis for further
details / orders.
BASEBALL CAP
Caps can be in many colours.
Badge can be in white or gold.
POLO SHIRTS or COTTON SHIRTS.
White and sleeveless.
Club badge on one shoulder  and
car badge on the other.
CLUB CAR BADGE.
In solid brass with nut and bolt attachment
CLUB PENDANT.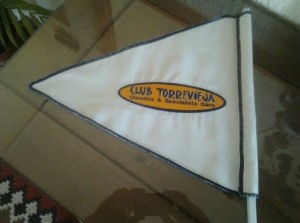 NECKERCHIEF
Normally white with club badge,
and car badge optional.